Edward Warmoth: A Manager of Construction
Welcome to the professional profile site for Edward Warmoth, President of Conquest Contracting.  This information is provided for our current and prospective clients to help them get to know our Builder.
This site is divided into three main segments: Construction Management (this "Home" page), in addition to Ed's resume, some information about Ed; Projects – representative samples of Ed's work during the past decade; Recommendations – letters from Ed's clients, co-workers, and friends.
You will find within these pages the description of a man with integrity and grit; one who does not trail with the pack, instead he takes the lead.  Someone who is motivated from within, and achieves what he sets out to undertake.  As a manager, he sets the example, leading from the front line.  Ed's genuine concern for the welfare of his crew members, coupled with hands-on understanding of what it takes to get a job done properly has made him a successful team builder.
Ed's philosophy: "It is through the balance of hard work and dedication to the giving of one's self that a man is made complete."
From the time Ed was a young boy his Dad reared him with a moral framework and a good work ethic; he also ingrained within his son a can-do attitude.  Ed's Dad was among the first in the U.S. Navy to transition from Enlisted status to a Non Commissioned Officer. Upon retiring after his 21-year service to our country he now continues to serve others as a Full Gospel Pastor. Not only has Ed's Dad been an upstanding role model, he instilled within his son an unwavering self-confidence and a purposeful determination to tackle any task successfully using resourcefulness and ingenuity.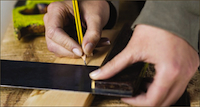 Throughout his childhood Ed had a passion for building and fixing things.  Beginning his construction career as a Carpenter's Helper, Ed was fortunate to learn the art of fine home building from genuine craftsmen.  While working under such elder tradesmen, Ed received the underpinning for, and an appreciation of, accuracy and attention to detail in all he does.

Ed first obtained his Contractor's license in 1993, at the suggestion of a building inspector when he was building a patio addition for a friend.  The inspector, after stepping through the framing inspection, told Ed, "You should consider getting a Contractor's license, we need more builders like you."  Ed followed the advice, and learned later that this aged inspector had an unsurpassed reputation in all of Central Florida for being hard on Contractors.  Ed has held an active license status in good standing in the State of Florida, upgrading in 2002 to Certified General Contractor (CGC1504324).  Ed is now qualified to build in more than 40 States within the United States.
In the aftermath of the terror attacks of September 11, 2001, the company that Ed was working for, serving as Director of Operations, collapsed.  Ed and his wife, whose background, among other things, is in Mass and Corporate Communications and Business, opened a new construction company, Conquest Contracting.  Conquest Contracting has produced a 12-page brochure detailing some of Ed's experience.  A digital copy of this brochure is available by clicking here.   Since August of 2002, Ed has been President of Conquest Contracting, performing work for the clientele listed in the brochure, and continuing to add new relationships along the way.  To view Conquest Contracting's Website, click here.
Ed has always worked closely with his clients, often performing the duties of the Client's Construction Manager.  Ed typically enters into a project at the conceptual stage, designing, or helping to design, the project, and negotiating each contract before constructing the finished product.  The overwhelming majority of Ed's contracts have been negotiated.  As mentioned, some of Ed's clients have utilized his talents by having Ed perform duties normally carried out by the Owner's Representative.  In that capacity, Ed has helped his clients develop Business Pro Forma to determine the viability of projects prior to acquiring the land.  Ed's involvement in the due diligence cycle of projects provides him with a skill set uncommon to most General Contractors, and fosters a greater understanding of his client's needs, and mindsets, on projects.
Having worked as the Owner's Construction Manager, Ed has extensive experience with the Pre-construction aspect of projects.  Working with nation-wide, multi-brand, restaurant companies has taken Ed across much of the United States.  While managing multiple concurrent projects across several states, Ed has learned how to work with just about any building department, zoning board, development committee, health department, etc.  Though Ed has always worked in an open shop environment some of his projects have been performed in cooperation with local unions.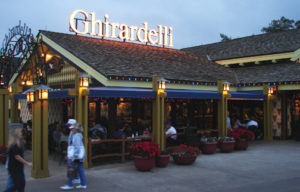 Ed is accustomed to working on projects that are: fast-track, high profile, open-store remodels, in high traffic areas.  One such project was the Ghirardelli Chocolate Soda Fountain in Downtown Disney, you can see a presentation here.  Conquest Contracting performed a full remodel of the Ghirardelli facility, including two additions, completed in just 26 days.  Ghirardelli contacted Conquest Contracting expressing a desire to increase their sales while updating their store. Conquest performed a flow study and worked with a local architect to rebuild the product prep line, customer POS cue, and pick
up area, to increase productivity and customer flow. The resulting increase in sales well exceeded the desired 15% bump in sales, and with the greater efficiencies designed into the new product prep line they were also able to realize a reduction in staffing.
A presentation about the remodel project was prepared for Ghirardelli's Vice President of Restaurants and Retail, Yvo Smit.  Yvo had visited the site before construction was underway, he then referred to the Downtown Disney Ghirardelli Shop as his Orlando living room.  The presentation enabled Yvo to see the transformation of his living room.